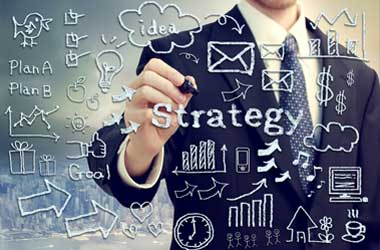 There is much more to a trading strategy than mere formulation of entries and exits.
The binary options trading plan should have a right combination of the below mentioned constituents:
Deciding the trading time:

Experienced binary traders always prefer to trade during the periods of heightened volatility. On the other hand, beginners would prefer to trade range bound markets. Likewise, there are some traders who prefer to trade in the US market opening hours, while others prefer to trade in the European market hours.

If we narrow the conditions further, there are traders who would choose to enter a trade before or after a news announcement. Thus, it can be understood that the choice of trading time should be based on the personal trading strength of a trader.

Choosing a different time, against the personal strength, would only affect the performance of a trader. In order to arrive at a conclusion regarding the personal strengths and weaknesses, a trader should attempt to paper trade in different trading times. Further, based on the demo or paper trading experience, a trader should choose the apt trading time.

Selecting the asset:

A binary option trader should always concentrate on a select list of assets to trade with. Even though equity, commodity and currency markets are correlated to each other, the fundamental factors contributing to the rise or fall in the price of two assets, belonging to different financial markets, differ widely. Thus, focusing on few assets would enable a trader to clearly understand, assess and forecast the trend perfectly.

Deciding the expiry time:

No two binary option traders are alike. A trader who may be comfortable and successful in trading one hour time frame may not experience the same amount of success by trading in a four hour time frame. Thus, it is quite important for a binary options trader to choose the right time frame, which forms the basis of consistent performance in binary options trading.

Creating rules for entry and exit:

A perfect set of rules based on the fundamental or technical analysis or a combination of both should be created. The entry and exit rules should ensure that a binary options trader gets a clear indication about the trend reversals, which may happen, after entering into a trade. Such an indication will allow a trader to pre-exit the trade and trim down the losses, in a case where the broker offers an early exit facility.

Demo-test / paper trade:

Once completed, the strategy created by a binary options trader should be put to test. In this regard, a trader should open a demo account. The strategy should be tested for at least a month before validating the performance. If the success percentage is at least 70, then a shift to the real account can be done with confidence. If not, a trader should fine tune the strategy.