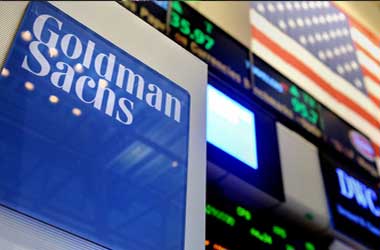 Despite reporting better than anticipated fiscal 2017 second-quarter results, the stock of Goldman Sachs Group (NYSE: GS) declined last week to close at $220.18. The 40% y-o-y decline in the trading income is the primary reason for the erosion of the stock's value..
The weakness is expected to continue on the basis of the downwardly revised guidance for growth in net interest income and the note of caution issued on trading environment. The bank also lowered its expectations on loan growth.
Thus, as discussed below, the stock is forecasted to be on a declining note in the short-term.
The New York-based lender reported Q2 2017 earnings of $1.631 billion, or $3.95 per share, on revenues of $7.887 billion. In Q2 2016, the global investment firm reported earnings of $1.634 billion, or $3.72 per share, on revenues of $7.932 billion. The Wall Street analysts had anticipated earnings of $3.39 per share on revenues of $7.521 billion.
CNBC
Compensation and non-compensation expenses were $3.23 billion and $2.15 billion, respectively. That was higher than FactSet analysts' estimates of $3.11 billion and $2.11 billion, respectively.
Investment banking segment, which includes Equity and Debt underwriting, reported 3% y-o- y decline in revenues to $1.73 billion. Institutional client services revenues, which includes Equities client execution and Securities services, reported a 17% decline in
revenues to $3.051 billion. In particular, Fixed income, Currency, and Commodities Client Execution revenue declined 40% y-o- y to $1.159 billion.
However, Total investing & lending revenues increased 42% to $1.576 billion. Similarly, Investment management revenues increased 13% to $1.530 billion.
At the end of second-quarter, the CET1 ratio was 12.5% in accordance with the Basel III advanced approach. Goldman Sachs also declared a quarterly dividend of $0.75 per share, unchanged from the prior quarter. The stock is trading at a forward per ratio of about 12.30, which is close to its historic average of 12.90. Thus, the stock is fully valued. Furthermore, the decline in the trading income is also expected to keep the stock bearish in the short-term.
After failing to break above the resistance level of 227, the stock has started declining. The descending stochastic indicator also confirms an increase in the selling pressure. Thus, we can expect the stock to decline and reach the next major support level of 214.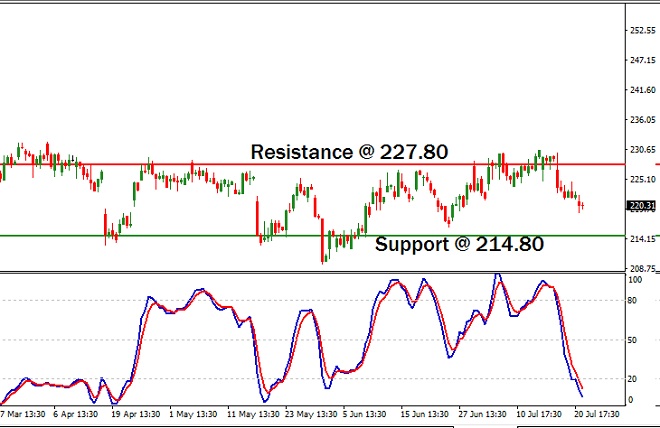 In order to capitalize on the decline of the Goldman Sachs' stock, we wish to invest in a put option. Before opening a position, we wish to make sure that the option remains active for a period of one week and the stock is trading near $222 in the NYSE.